I'll admit it, yesterday I snuck over to Facebook to see what people have been saying about my more recent episodes (I probably log in to Facebook as often as once a month these days). In response to my recent episode about getting creative with sports, Candace Reedy said, "I always thought golf and tennis would be greatly improved by retrieving dogs…"
I agree wholeheartedly. And dogs and tennis balls? It's as natural as beer on Friday. I once wrote somewhere in the million-plus words of this blog, that if dogs could raise a statue, it would be to honor the person who invented the tennis ball.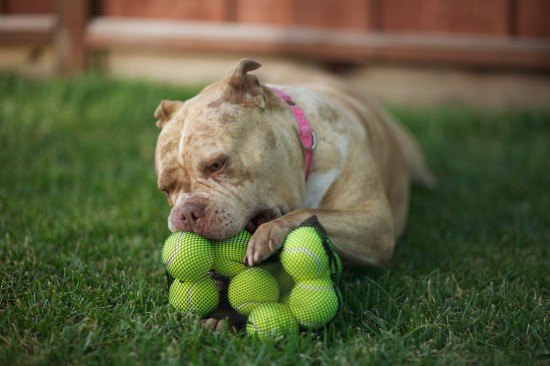 So — dogs and tennis. Obviously a good idea. But how, exactly, would it work? I'm here to help make that real. You don't have to thank me, it's what I do.
Overall, I think dogs would add two things to the game: chaos and slobber.
Let's think about slobber. You're going to have wet-ball players and dry-ball players. When you serve a ball that is sodden with dog drool, it will feel like you're hitting a lead weight. If you serve with the usual overhead motion, you will be launching a slug and while it might not get over the net quickly, when it touches the surface on the other side, it will drop flatter than a biological slug. The ultimate dream of topspin players to keep the ball low to the surface on the bounce; with a drool-ball there will hardly be a bounce at all.
But when you toss that saturated ball over your head, dog spittle spinning off, droplets shining in the sun, your opponent will know what is coming, and rush the net. So what do you do instead? The lob-serve. Hit it deep, keep it squishy, and your opponent will be forced to hit it on the volley rather than let it "bounce" – a relatively tough shot.
But here's were things could get tedious. Your opponent is just as restricted as you are concerting shot options. She will be sending a lob right back. Not exactly the recipe for excitement.
Except, of course, there are dogs on the court! And the right dog for this game will be expert at shagging lobs. But then what happens? Simple: If the dog catches the ball on the volley, it's a point for the dog's team. If the dog catches it on the first bounce, no points for either side, a do-over. The dog can enjoy the ball for a limited time, juicing it up, but when her teammate says "drop", the ball is returned to play.
Imagine you're Roger Federer, able to serve a thousand miles an hour, give or take. You're a dry-ball player. Your dog is an Australian Cattle Dog, nimble as all get-out and filled with energy, but is well-trained to give the ball back before it is too sodden. Your dog's name is something like "Ace."
Today you're facing an up-and-coming dog-tennis player named Casey, a scrambler in the Michael Chang mold, and his canine teammate Luna, a youngster of uncertain parentage with strong legs and an almost limitless supply of drool. Casey is good at deflecting hard serves so that Luna can have a shot at them, and Casey's scrambling style will eat you alive once things get sloppy. A classic wet/dry showdown!
Stuff like that is what sport is all about.