One of the first decisions I made after choosing a bicycle was choosing an app. I did a search on the ol' app store and found quite a few options, but only a few were what you might call "feature-rich". Strava, the most popular app for bicyclists, did not appear in my search results for whatever reason, and I ended up choosing MapMyRide.
Later I heard about Strava — first from a comment on this very blog, and realized that most of the cyclists around me were using that service. Strava is especially popular among "serious" cyclists, which I'm really not, despite the miles I rack up.
There are, I've heard, people who ride bicycles without an app, if you can believe that. I find the app extremely valuable, from logging how well I did and guessing calories I burned (MapMyRide seems… optimistic in that regard) to totaling up my miles for my maintenance log. (Hint to both services – maintenance log would be sweet.)
When I got my Apple Watch I found that Strava has a a watch app but MapMyRide does not. It was time to try out the senior service, but I wasn't ready to walk away from MMR quite yet. It's about the data. In MMR's database there are hundreds of my workouts – not just bike rides but walks and machine training as well. MapMyRide is part of a family of apps and Web sites that go under the general moniker MapMyFitness. MapMyWhatever started with MapMyRun, so its features aren't terribly bike-centric. But I'm getting ahead of myself.
While I was interested in Strava, I was not about to abandon all that data. The obvious answer: use both for a while, and then choose the better service.
So I have been using both for quite some time now, and this episode is intended to compare and contrast the two services. The comparison is, of course, subjective, but I think I can be honest about where my subjectivity comes from.
Technology:
Strava wins hands-down. The core functionality of the two apps is similar — you push the start button when you begin riding, you push the stop button when you're done. Both apps (and the corresponding Web sites) show how you did and draw your path on a map. Both apps have a lot of other features that are done better on the Web sites. It's a fundamental law of human nature: time on task is inversely proportional to screen size.
Strava's iPhone app just works better, and MapMyRide doesn't even have a watch app. MMR's app crashed my phone on a couple of rides, but that problem seems to have been fixed.
Technology doesn't end with the app. While MapMyRide.com has a cool-but-useless feature that allows you to relive your ride in 3-D, Strava has a mind-blowing heat map that will show you where the locals ride, anywhere in the world. It's great for finding the best route in unfamiliar terrain, and it's great for city planners and those with a vested interest in improving bicycle infrastructure. And heck, it's just fun to drift through. It's awesome.
They sure do ride a lot of bikes in England.
Also Strava offers a "fly-by" feature. If you interact with someone on your route, or are merely curious about the guy who blew past you while you slogged up Homestead Ave, you can use the fly-by feature and if the person was using Strava and makes their data public you can see a little about them. (I have chosen not to share my data close to home, but the rest of my trip I have made public. It seems like a good compromise.)
Bike-centricity:
Strava. Strava is a bike service that now does running as well; MapMyRide is a running service that expanded to cover all fitness. This has echoes though both services. For you, bike-centric might be a plus, it might be a minus.
Web Site – General:
The phone apps gather the data, but it's the Web site where you really dig in. I'm giving MapMyRide the nod here. The dashboard is what a dashboard should be, not just a list of events but a meaningful summary of your recent activity. When you look at a particular ride, you get the information you're most likely interested in, in a simple-to-survey, color-enhanced display (were I red-green colorblind, I might not feel the same way). Overall, I think the information design is better at MMR.
Web Site – Social:
Both sites have ways for you to connect with other riders. I don't use them. I ride alone, mo-fo's. Though I am part of a group of Apple riders on Strava, and it does motivate me to be in the top ten for mileage each week. Last summer I could hang in there on weekdays, but I got blown away when the weekend warriors come out. I'm trying to get back up there again this month. But really, as a guy who's no big fan of Facebook, I'm not qualified to judge this category.
Web Site – Performance:
Performance in this case means your performance. Both services offer a great deal of analytics to help you evaluate how your ride stacks up. The way the information is presented demonstrates the fundamental difference in thinking between the two services, and it probably defines which service is right for you.
Here's the deal: Strava pits your best against everyone else's best. MapMyRide compares you to your previous efforts, and rewards consistency.
Each service starts with a similar concept. Strava calls them "segments", MapMyRide calls them "courses". They are (usually) fairly short bits of your overall ride. The mighty servers in their air-conditioned warehouses recognize when you traverse a segment/course (hereafter, "bit") and provide a wealth of analytics to compare you with everyone else who has ridden the same bit.
The analytics offered between the services are very different. Strava ranks your best performance on that bit with the best performance of everyone else. If you pay for premium service, you can filter those numbers so that you can measure yourself against people of your own gender and age. If you're riding your bike to break records, then this is what you would want to see.
MapMyRide instead has a point system. Sure you get points for being fast, but you get even more points for being consistent. You might not be the fastest over that half-mile stretch of trail that month, or even the tenth-fastest, but if you do it day after day you will rise to the top of the rankings.
Here are a couple of screen shots, showing one small part of the data each gives. Both show data from my ride this morning. On the surface, Map My Ride shows much more. Each allows you to dig deeper into your performance on each bit. Map My Ride shows how you stack up using their points system (which greatly rewards riding the same course many times), while over at Strava the most important thing is how your best time stacks up against other riders' best times.
Here's a look at the top of the summary of my morning's ride from Strava. At a glance, there's not much information, but with a click one can dig deeper. On the right of the expanded section is my best time compared to the best times of everyone else. My other rides aren't really represented. But holy crap – how did I get in the top 10%? Now that I think about it, I don't even think that's right. So, that's a bit of a problem.
Below are the first three bits of my ride summary from this morning on MapMyRide, comparing my times with my own past performance. I was not exactly fast this morning, but I'm slowly getting back to form. You can dig down into each of the courses in the list to see how you're doing compared to others for speed and consistency. The default period for the comparison is this month.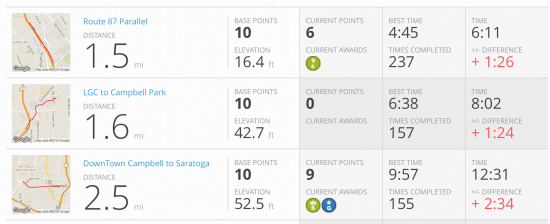 The difference between Strava and MapMyRide might be summarized as performance vs. health. The MapMyFitness family is about habits, about getting out there every day and doing what has to be done. Strava is about the result of that fitness regimen, that one day when you fly over the hill and bank a great time. They both have their merit.
Missing from both (as far as I can tell):
I want to have my own, private, way to stack overall commutes and chart my progress, without creating a route that is visible to the public. I want it to be a little flexible so if I take a different zig through the cemetery or a zag through Santa Clara it will still be in the comparison.
As mentioned above, a maintenance log integrated with the service would be awesome, and would provide ample selling opportunities. "Hey, that's a lot of miles on your chain…"
Web Site – Promotions:
MapMyRide has better promotions with better free stuff.
Data Freedom
I won a premium membership in a MapMyRide promotion, otherwise my data would be hostage to that service. Dicks. Strava acknowledges that my data is mine. This is actually a big deal.
Use of Spaces
Ugh. I wrote this whole episode with words separated by spaces – "Map My Ride" and whatnot. But their own copy smushes the words together, so I went back and applied a global-smush algorithm.
Conclusion
Are you a plodder? An everyday grind kind of person hoping to maybe get stronger but mainly getting from place to place and burning a few extra calories in the process? Perhaps you're trying to lose weight, and the most important measure is whether or not you're doing what needs to be done. Then MapMyRide is for you.
Are you a competitor? When you get on your bike is your primary goal to kick ass? Then probably Strava is for you.
Personally, I've managed to get into the top 66% on most of my Strava segments (ignoring the clearly incorrect reading I've discovered lately). I'm right around the bottom third. On a couple of odd backwater segments, I'm actually way up there. If I were to pay for a premium membership I could see how I stack up against other 50-year-olds, but in all likelihood the results would be more depressing, since my main excuse for slowness will be stripped away, so honestly I don't want to know. MapMyRide, on the other hand, says, "Good job, Jerry, you got back out there and did it again today." I don't need to be best. I need to ride.
BUT — Today I chatted with a spandex-clad man on a fancy bike. A teacher, celebrating the first day of summer vacation. He even rode slowly enough to chat with me for a bit after the light changed. As soon as I got to work I fired up Strava and checked the fly-bys for my ride to see if he was there. Alas, he was not. But if I hadn't been running Strava I would have been gnashing my teeth and rending my clothing over not being able to check. So I can't ride without Strava anymore. I just can't. You never know when you'll run into an engineer from Tesla on your ride and want to follow him.
But the information provided by MapMyRide fits my style so much better. I have to use that.
For the foreseeable future, then, I'll be using both.