About two years ago, we welcomed into our house a little asshole we named Gilfoyle. He is at least in part a Lancashire Heeler, a very small dog designed to move large animals. You want to succeed at that job, you better be an asshole.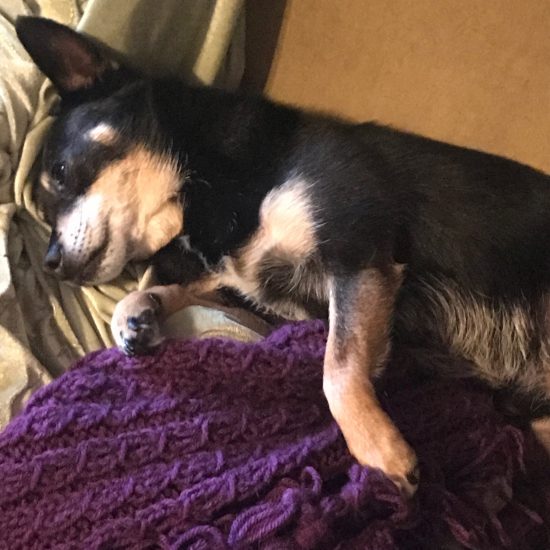 Right now he is under my desk, sleeping on my foot, snoring a little bit. Wherever I sit down to work, he will always be close by. He loves Mommy more, but I stay still.
In the evenings, there is a routine. After a few minutes of snacks and training the dogs and the humans take their places on the couch. Gilly (after sniffing the outside air, drinking water, and rubbing his face on the floor) jumps up on the couch (with a tiny, tiny bit of assistance) and takes his place against my left thigh.
Sometimes, if the Official Sweetie and I are still snacking, some tiny treats will also reach the canine elements of our pack. Last night we were eating chips, and now and then a tiny piece of chip would find its way to the pups. They do likes them some chips.
But then I offered Gilfoyle a chip and he went totally fuckin' nuts. He bit my finger and then went after any part of my body he could reach, barking and flashing teeth and… I dunno, fighting for his life?
I should have been more ready. I had been sipping Tequila, and I've seen plenty of times before that when I'm drinking liquor Gilly is much more volatile.
It breaks my heart. I don't know Gilfoyle's history, but I can make a few guesses. When Dad's been drinking, prepare to fight for your life. I will never erase that impulse. I can never love this dog so hard that those scars go away. But Gilfoyle, my friend, my foot warmer, I will never hurt you. I promise.