I need to be going soon, to get the pups back to Los Alamos and to meet up with Jojo et. al. to go watch Zozobra. So this morning I was right here in this chair, checkin email and whatnot, generally procrastinating. Outside the window was a stack of rocks. A few feet away was another rock, and as I looked at it I realized that rock had to go on top of the stack. It went from being an observation to an obsession in just a few minutes. The rock was yearning to be put in its proper place.
Time to take the dogs out. While the dogs explored I put the rock where it so clearly belonged, a definitive refutation of Aristotle. Mission accomplished, I noticed that there was a nice flat spot on the new rock that called for another rock on top of it. Thus was a monster created. There are now five new sculptures (if I may be so bold) in the area surrounding Five O'Clock Somewhere. Well, four and a half—one's just a little guy.

Rock Pile 1. I added the top three rocks to the existing pile. Hey, this is fun!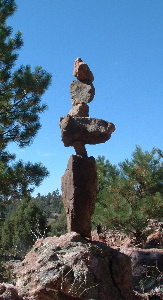 Rock Pile 2, going for altitude!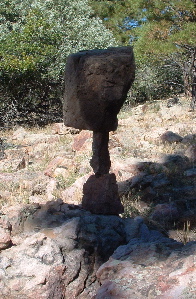 Rock Pile 3, defying gravity.
That top rock is pretty big.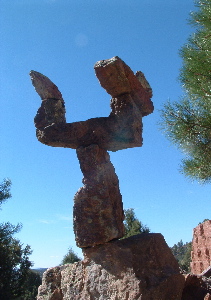 Rock Pile 4, getting fancier.
I almost knocked the whole thing down while doing "one last little adjustment". This picture doesn't show the structure that well, but I like its drama.