I have set a goal for myself: Get to the top of Mount Hamilton by bicycle before I turn 60. It is a well-known climb in these parts, and it has the advantage of being a serious ride that I don't have to start with a ride in the car. It's only a few miles from home to the foot of the climb. It's about 1300 meters from where I live to the top. Routine for some, the achievement of a lifetime for others.
I have given myself three years to get fit enough to make that climb, and let me tell you, kids, I am extremely excited about this goal, and I'm sure I can do it.
If I survive those few urban miles between me and the mountain.
December 19 was, mostly, my best ride ever. I had planned to do a small loop up the first couple of miles of the climb. That would be a preview to a bigger loop I would build up to. Not even remotely close to the full climb, but more than I had done on the last trip.
Man, I had fun. I told myself there was no shame in stopping for a breather a couple or times, and I missed the turn for the smaller loop and kept on going up. I found the larger-loop road down and took it easy heading back; this wasn't a time trial. It was a chance to enjoy the day, and when my tire hissed and spat angrily I pulled over only to find that the sealer goo I had reinforced just prior to the ride worked perfectly.
It was a tiny road down, twisting and turning, but there were almost no cars. There were many junior-high level kids slogging up the other way, pedaling at absurd gear ratios but moving forward and up. A club? A team? Just what kids do up there to get around?
I had a song in my heart when I returned to the foot of the mountain. An epic day, for small values of epic. I've mentioned before how much I love a good day on the bike; this was the best day ever.
Until the crash, at least. I was back on urban roads and looking over my shoulder to check traffic as I approached an intersection, when I hit a massive ridge of pavement in the bicycle lane. According to software, I was moving at somewhere between 17 and 18 MPH when it all went to hell.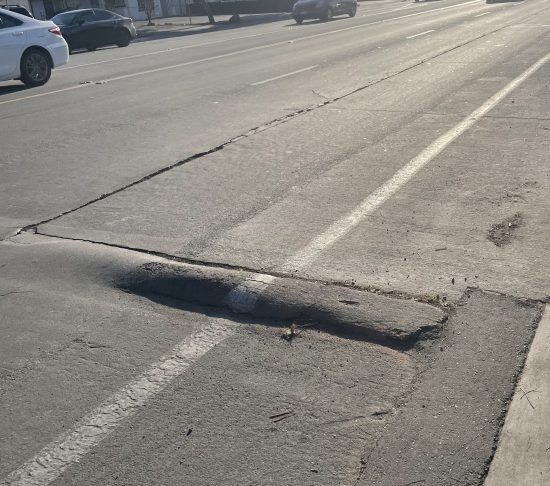 My first thought, as my reflexes fought to control the bike, was utter surprise. That didn't last long. Given the distribution of my injuries, it's pretty much a miracle that I didn't break a wrist or leg or you-name-it trying to break my fall. I wobbled, I tipped, and I smashed to the curb and slid across the sidewalk to wrap myself around a tree in its oh-so-soft mulch.
Somewhere in there I heard the sound of my helmet whacking against the pavement. It seemed, in that time-dilated moment, that I had been waiting for that sound.
Finally I was at rest, against the tree, and I hurt in a very non-specific way. I just hurt. My watch asked for my attention. "It seems you have fallen," It said. "Do you need help?" I wasn't sure at that point how to answer.
A bystander came close, but not too close. He asked if I was OK. I was still trying to figure that out, as I lay on my back and looked into the clear sky. My watch asked me about my status again, ready to call 911 on my behalf if I was unable to answer. I selected "I did fall, but I'm OK." I still wasn't sure that was true.
Once the bystander was sure I was not going to die, my Samaritan turned to humor. "You need last rites? Because my friend here is a priest." I wasn't ready to laugh, but I was glad he was. When I told him I was wearing a brand-new helmet, one with new technology for better brain protection, he was effusive. "Wow! that's great! Thank God for that." He couldn't offer physical aid, but he was working as hard as he could to throw spiritual aid my way.
Eventually I convinced my electronics and my helpful bystanders that I would be all right. I just needed to lay on the grass for a bit. After a short while I got up, documented the death berm in the bike lane, and started my ride home.
That was a long six miles. There was enough blood coming off me that motorists at intersections waved me along and waited for me to cross. I couldn't (and still can't) signal my right turns; my shoulder won't allow it. My front derailleur is either damaged or knocked out of whack; I tried a shift that left my chain flopping around my bottom bracket, and in my state that nearly dumped me over again. There is also quite a bit of cosmetic damage to my brand-new bike.
Perversely, I'm a little proud of those six miles. Not in the same way I'm proud of the climb that came before; but proud nonetheless. Two miles from home I called the Official Sweetie and said that when I got home I needed to go to urgent care.
As my Samaritan was quick to tell me, it could have been a lot worse. I had a good helmet and somehow managed to hit the concrete with my fleshy parts, and not break any bones. My brain survived unscathed, judging by subsequent code reviews. I have a massive hematoma on my thigh, a bulge larger in span than my fully-extended hand, that ripples when I tap it. The doctor says it will probably go away, and almost six weeks after the wipeout it seems a little smaller. I have a separated shoulder that is pissing me off and making it difficult to sleep. But I am alive.
I am alive, and I really, really want to get back to climbing that mountain.