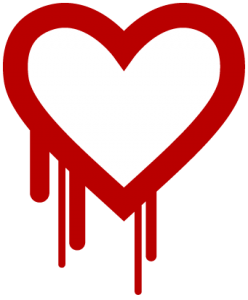 You probably heard about that HeartBleed thing a few months ago. Essentially, the people who build OpenSSL made a really dumb mistake and created a potentially massive security problem.
HeartBleed made the news, a patch came out, and all the servers and Web browsers out there were quickly updated. But what about your car?
I don't want to be too hard on the OpenSSL guys; almost everyone uses their code and apparently (almost) no one bothers to pitch in financially to keep it secure. One of the most critical pieces of software in the world is maintained by a handful of dedicated people who don't have the resources to keep up with the legion of evil crackers out there. (Google keeps their own version, and they pass a lot of security patches back to the OpenSSL guys. Without Google's help, things would likely be a lot worse.)
For each HeartBleed, there are dozens of other, less-sexy exploits. SSL, the security layer that once protected your e-commerce and other private Internet communications, has been scrapped and replaced with TLS (though it is still generally referred to as SSL), and now TLS 1.0 is looking shaky. TLS 1.1 and 1.2 are still considered secure, and soon all credit card transactions will use TLS 1.2. You probably won't notice; your browser and the rest of the infrastructure will be updated and you will carry on, confident that no one can hack into your transactions (except many governments, and about a hundred other corporations – but that's another story).
So it's a constant march, trying to find the holes before the bad guys do, and shoring them up. There will always be new versions of the security protocols, and for the most part the tools we use will update and we will move on with our lives.
But, I ask again, what about your car?
What version of SSL does OnStar use, especially in older cars? Could someone intercept signals between your car and the mother ship, crack the authentication, and use the "remote unlock" feature and drive away with your fancy GMC Sierra? I've heard stories.
You know that fancy home alarm system you have with the app that allows you to disarm it? What version of OpenSSL is installed in the receiver in your home? Can it be updated?
If your thermostat uses outdated SSL, will some punk neighbor kid download a "hijack your neighbor's house" app and turn your thermostat up to 150? Can someone pull a password from your smoke detector system and try it on all your other stuff (another reason to only use each password once)?
Washer and dryer? The Infamous Internet Toaster? Hey! The screen on my refrigerator is showing ads for porn sites!
Everything that communicates across the Internet/Cloud/Bluetooth/whatever relies on encrypting the data to keep malicious folks away from your stuff. But many of the smaller, cheaper devices (and cars) may lack the ability to update themselves when new vulnerabilities are discovered.
I'm not saying all of these devices suck, but I would not buy any "smart" appliance until I knew exactly how they keep ahead of the bad guys. If the person selling you the car/alarm/refrigerator/whatever can't answer that question, walk away. If they don't care about your security and privacy, they don't deserve your business.
I've been told, but I have no direct evidence to back it up, that much of the resistance in the industry to the adoption of Apple's home automation software protocols (dubbed HomeKit) are because of the over-the-top security and privacy requirements. (Nest will not be supporting HomeKit, for instance.) In my book, for applications like this, there's no such thing as over-the-top.