The stars are close here, and on a still, cold, cloudless, moonless night there are a lot of them. Find a dark place, look up, and you will see them. 2.7 fucking buttloads of them, to be exact. (This number was scientifically determined many years ago by our crack stellar research team.)
On Christmas Eve the street lights are turned off over much of Barranca Mesa, and cars drive slowly, with only their running lights, and the stars shine down in all their brilliance. It's a good night to take a little walk.
Just why are such unsafe driving conditions not only tolerated, but encouraged? Farolitos, of course. Often called lumenarias (opening the speaker up to correction by the more pedantic traditionalists), these little fires were first invented to act as runway markers for when the Baby Jesus was coming in for a landing. These days their job is simply to look cool, to provide a festive atmosphere without resorting to brash blinking and color. Farolitos glow, a calm and peaceful light that is more a "Silent Night" feeling than a "Jingle Bells" one. It fits with the tempo of New Mexico – it's not a hurly-burly go-go-go sort of decoration.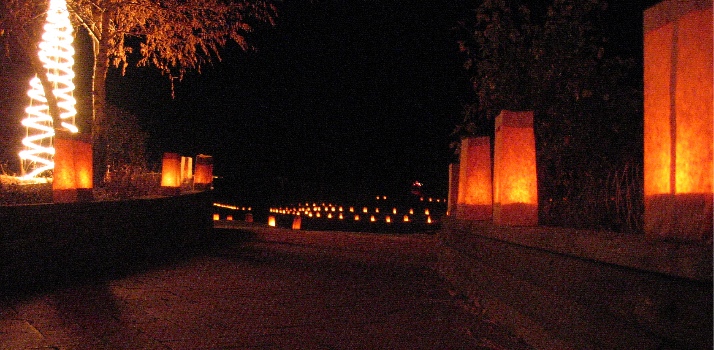 Out at the end of Barranca Mesa, the whole neighborhood farolitafies, the street lights are turned off, and the neighborhood becomes a destination for people to slowly cruise or (better) walk, taking in the simple beauty for miles.
Farolito 101
For those among you not familiar with this tradition, farolitos require a little more effort to set up than strings of little blinky lights, but when you and friends work as a team things go quickly and it's a nice way to spend the waning hours of Christmas Eve. The construction is simple, requiring a paper bag, ballast (usually sand), and a candle.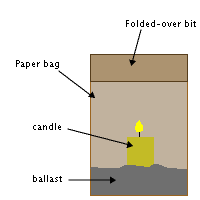 … and that's all there is to it (although you do not want me to be in charge of folding over the tops of the paper bags. Many bags were injured this year in the creation of farolitos at my house).
Of course, technology never rests, and at the olde homestead we no longer use primitive sand for the ballast, rather we have specialized bricks, just the size of a typical farolito bag, with a hole ready to accommodate a typical votive candle.
Farolitos are a gentle light, and while photogenic, they require a long exposure. Most of the pics I took this year are hopelessly shaken (I should have used the 2-second delay even when using my little mini-tripod). Here is one of the homestead, including fuego's giant automobile (dubbed by fuego the "hotelsmobile" and by my parents as "the #$@*!! thing blocking the driveway that has long overstayed its welcome").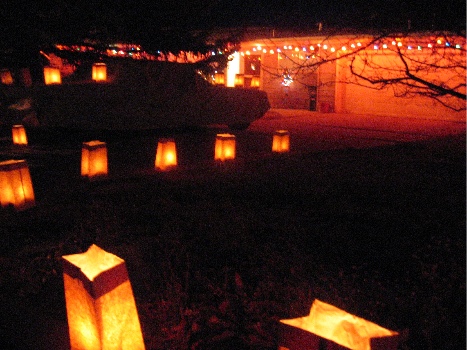 As you can see, the parents favor a combination of electric and external combustion, enjoying the everyday colored lights and augmenting them on christmas eve with the farolitos. This is not uncommon, and allows the festive feeling to continue long after the candles have all burned away.
On the walk between John H's place and Jojo's, lugging beers and stopping often for photos, we met others out as well, enjoying the unseasonably warm evening. I'll be putting up more photos at the gallery shortly.