Ah, plans. Schemes. Nefarious plots. It is man alone who has the hubris to attempt to impose his will on the future. Every plan is based on the assumption that the universe is an orderly place where result follows cause, and chaos, while not controllable, is at least manageable.
Spain is not part of this universe.
The day began in Barcelona, in the Bohemian part of town (map). There were four of us in the room, Cassius and Brutus on lower bunks while Miss Adventure and I reposed above. Brutus was up first to head for the airport so he could jet back to Estonia and his job. His jolly cheerfulness was instantly missed, but we had Miss Adventure to add her own perky ray of sunshine to the mix, and on top of that she had ideas about places outside of Barcelona she thought would be fun to visit. After some discussion we all agreed that traveling to Cadaqués, a town known for Salvador Dalí and beautiful rocky shores, was a capital idea. One guide book listed a particularly interesting hotel/restaurant sharing the easternmost point of Spain with a lighthouse. It sounded cool, and one phone call later we had a room held for us. We had a plan.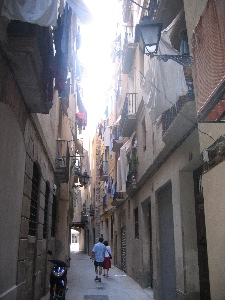 The bus didn't leave for a while, so we knocked around town, wandering through the tourist shopping district (Miss Adventure is most certainly not a shopper, praises be), around and about a very pleasant park, grabbed some ice cream, and generally hung out. Miss Adventure turned out to be very easy for me to talk to, with a perspective and attitude that complements mine. She also has a good sense of direction.
On the bus, Cassius studied our new destination more closely, and pieced together bits and pieces to come to the conclusion that the hotel we had a room reserved in was in fact a ways out of town. "We'll just get a cab," Cassius said. I didn't think there would be any cabs waiting to meet the bus, but I didn't mention it at the time. We could always call for one. It would be pricey, but we would find ourselves in an isolated and dramatic location, a rambler's paradise.
Night fell, the bus rumbled on, we all napped. Miss Adventure curled neatly into a pair of seats; I didn't even try. The bus groped its way over twisting mountain roads like a blind grandmother, pausing often as it needed both lanes to go around some of the curves. At last, at last, we dropped down into town (map) and began to execute our plan.
We didn't get far. We are now in a part of the country where it is assumed most visitors arrive by car (thus no warning about the distance to the hotel we liked). There were no taxis, and calling one was beginning to look impractical. We decided to find a place in town instead.
There are lots of hotels in Cadaqués. Some are small and funky, some are large and ritzy. Some of those listed in our guide books no longer existed. All the hotels, from the humblest pension to the gleaming four-star monstrosities, had one thing in common. They were full. In order to scour the town more efficiently we divided responsibilities based on skills with Spanish. Essentially I watched all our stuff while Cassius and Miss Adventure did the hunting.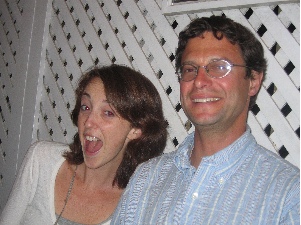 During the next couple of hours of futile search I got to spend snatches of quiet time with Miss Adventure as we waited for Cassius' report, and I continued to be surprised byt the easy rapport we had achieved. The credit goes to her, of course. But there we were, with no place to stay and no way to get anywhere else. On one of her missions she managed to sweet-talk the night desk man at one of the hotels into letting us keep our bags there, so at least we would be less encumbered. The man also told her the closing times of the bars. Some restaurants closed at two, which was already past, but others stayed open later. One stayed open until five, and the breakfast restaurants opened at 7:30. We were on to Plan C: The All-Nighter. As I sat with Miss Adventure she became more excited about the prospect, and her mood quickly rubbed off on me as well. Cassius rejoined us and we agreed that the hotel bill for the night had just been redefined as a bar tab. We stashed our gear and off we went.
We settled into the first bar. I ordered beer, Cassius ordered rum and coke, and Miss Adventure requested chocolate milk. Miss Adventure, the tender young thing that she is, partakes of alcohol only in moderation. The drinks were pretty expensive, but we've come to expect that.
We were not there long before the bar closed, however. Some people were getting drinks to go, but we headed to the nearby night club, where things were still going strong. We sat on the patio and were shocked when we heard how much the first round of drinks cost. Cassius had ordered another rum and coke, and it had cost well over ten dollars. The beers were pricey, but not as ridiculous. The patio closed next, forcing us into the interior din and smoke, and we continued to nurse our drinks very, very slowly. Even converting our hotel budget to the bar tab wasn't going to get us very far. Finally Cassius went to the bar for another round, but returned empty-handed. The bartender had asked for eight dollars each for beers and water. Cassius just left them on the counter and walked away.
It became apparent that we were not going to last until five o'clock in that place. After a while we departed, to see if there were any other possibilities. Another place, nicer-looking, just up the way had its door open but appeared to be closing. After a brief discussion Cassius agreed to go and ask if they would serve us. Miss Adventure and I hung back, waiting for some kind of signal as Cassius pleaded with the people inside. No signal came, so finally we went on in.
The bar was closed. The manager was just getting set to leave and her friend was helping. Kath, a youngish englishwoman who likes to say "wicked" popped open our drinks while Cassius chatted with Ralph, a refugee from Holland. And here's the thing: Ralph was housesitting for his boss, and occasionally took in guests for a quiet under-the-table transaction. Cassius had told them we had no place to go, and suddenly we had a place to go. Plan D.
Ralph's place was beyond nice. It was over-the-top sumptuous while retaining that Mediterranean spareness, and as we sat out on the veranda sipping champagne with Kath, listening to the waves lap the shore, we knew we were in a good place. It was getting light when we surrendered to the forces of fatigue; I was attempting an informal time-lapse sequence as the whitewashed buildings resolved out of the gloom. Kath, I must say, is all right. Ralph, too, proved kind and generous in our time of peril. I woke this morning in a comfortable bed, in an unbelievable villa on the harbor. Dang.
Let's hear it for Plan D.