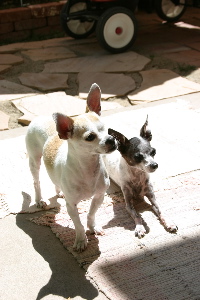 Triska just had her second kid and is feeling overwhelmed right now. It's not just the dogs, but they contribute, and finding a place for them until I could take them to the Czech Republic would be really helpful. Otherwise, they may have to put the boys up for adoption.
The biggest problem is that little Spike doesn't do well with the clumsy love of a child. He's a good dog, but he's very small and when the gentle petting becomes enthusiastic patting he feels threatened. He's probably OK with kids 6 and up, depending on how spastic the kid is.
It would be simplest to find a place here in California, but I can drive the boys pretty much anywhere if necessary. Here's the lowdown: They are both chihuahuas. They go as a package (Spike needs another dog around). They love to sit on laps and crawl under the covers. They are untested around cats, and have limited experience with other dogs, but recent encounters have been peacful.
Chico (aka Lefty) is the younger and more active of the two; he loves to chase things. His name could be "Magnet"; chicks dig him. He only has one eye, but don't tell him that. Spike is older and more territorial than Lefty. He is smaller and has a worried-looking expression most of the time. Usually when evil is near he will raise the alarm and Lefty will spring into action. Spike can stand on his hind legs nearly indefinitely.
Sooner or later I will probably be taking the pups to Prague, but it's important for any potential adopter to understand that "sooner or later" encompasses a very large window.
Please contact me via email or put a comment here if you are interested in looking after the guys. They really are good pups and you will fall in love with them, I promise.