This month's photo contest at Pinup Lifestyle includes an entry shot by yours truly once again.
The theme this month is "In the Bathtub", and we did a location shoot where there is a bathroom large enough to maneuver in. Happily, the bathroom was also very bright, giving me more latitude with shots than I'm used to having, without incurring ridiculous exposure times. Plentiful mirrors improved the light even more, but provided all sorts of challenges when it came to avoiding inadvertent self-portraits. Here's one of my favorites from the shoot: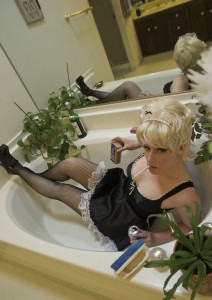 That is not the one entered in the contest, however! You'll have to go visit the contest to see that one. Oh, and hey, while you're there, go ahead and toss us a vote, why don't you? There are lots of good entries, so take some time to look around and spend your other four votes. It seems like month-to-month the quality of the entries is steadily rising. I think the quality of my shots is steadily improving, too. Hooray!