I have realized that as I sit atop my media empire I have a responsibility to the community I serve. Having originally broken the story of the Suicide Squirrel Death Cult, I must take on the mantle and continue to monitor this nefarious and fuzzy organization. Therefore I have spent my precious afternoon putting into place the Suicide Squirrel Threat Level System. I will now be monitoring suicide squirrel communications activity ("chatter", we call it in the biz), and based on that and other less tangible data I will periodically update the Suicide Squirrel Threat Level indicator on this site. Please be sure to check back often. Remember, preparedness is their worst enemy!
The threat levels are:
RED: psychotic
ORANGE: peeved
YELLOW: sick and tired
BLUE: ready to jump
GREEN: peaceful, easy feeling
Note that blue is where we would expect the greatest suicidal activity. Please pay close attention to the current threat and adjust your duct tape stockpiles accordingly. There may be times when the threat level seems arbitrary, but please be assured that this public service is backed by 100% USDA choice Science.
If you want to be part of the Suicide Squirrel Alert System, simply paste the following tag into your page. Your page will instantly update with the correct image:
<script type="text/javascript" src="http://homepage.mac.com/vikingjs/blogstuff/ThreatLevel.js"></script>
Thanks in advance for helping with this serious problem. If you do choose to become involved, I'd like to hear about it, either through the comment system or using the trackback thingie below.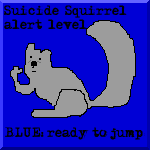 Update! WordPress users can now become part of the network simply by dropping in a widget! Go, Team WordPress! Let's take this battle to the next level!