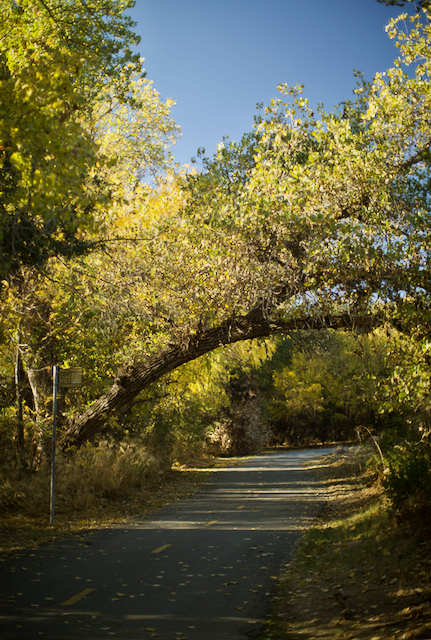 There is a section of my favorite bike trail, a sinuous stretch that winds between ancient trees, that is far enough from picnic spots that there is little foot traffic or large family bicycle outings. Along that stretch, I am occasionally able to flout the local speed limit and really have fun. Or to be precise, a different kind of fun, because it fills my heart with gladness to see a whole family out there enjoying the air and the trees and some of the good things about life.
And now there are bike helmets for kids that are awesome. I saw a young girl with a unicorn lid today that was just plain cool. I could be tempted, is all I'm saying. I'm never going to grumble about having to slow down for groups like that; in ten years I'll be the one getting in the way of the girl who has eschewed her unicorn for an aero helmet. Hakuna-matata, or something like that.
But I digress.
I am thankful for the quieter stretches, on this trail and elsewhere, over which I can put my head down a little bit, and see what I can do. The stretch on Coyote Creek Trail was always one of my favorites, but then I got the new bike. The Fezzari Empire changes things in ways I could never have imagined.
The Coyote Creek segment is flat by bicyclist standards, but it rolls a bit, with rises that seem gentler than they used to, and descents that seem more fun than ever. Ascending, rather than drop down a couple of gears and pedal enough to preserve some of my momentum, I'm more inclined now to stand up and mash, the challenge to never break my cadence as I attack the slope. Often now I'm going faster when I get to the top of these minor obstacles and my heart is pumping harder and I feel good.
Then through the twists and turns, and as confidence increases (see Rule 64) I find myself slicing through the corners, my bicycle eager to carve a path as my tires hiss over the pavement and my shirt ripples with the wind. It is a singularly awesome moment.
I mentioned somewhere in Part 4 that the new bike loves to turn. In fact, it is much like the little two-seat sports car that is buried under bike stuff in my garage. Quick, twitchy, and communicative, if a little more demanding and rougher than my good ol' Giant commuter bike. The Fezzari is talking to me all the time, and listening as well. And if I don't pay attention, things go astray much more quickly than when I am on my other bike. Kind of like my storytelling.
Perhaps now is the time to mention, for people who don't know me, that when I speak of my recent triumphs on my new bicycle, that the successes are relative. I will not be competing in the Tour de France any time soon; I am a gradually-less-overweight guy with skinny little legs who has earned his long white beard. Most of the Spandex Crowd** still passes me. (Hehe… most.) I'm probably not saying anything here that experienced cyclists don't already know. But maybe the experienced cyclists out there have forgotten just how awesome getting on a good bike and riding really is. And that joy is what I'm here to tell you about.
On the subject of communication with a bike: Never has a chain lube given such instantaneous gratification before. I had not considered that the repair stand I owned would not work on a bike with a through-axle, and I suddenly found myself scrounging. It was 250 miles before I did the first cleaning/lube (factory chain lube is supposed to last a while… right?) and I had identified a rumbling feeling coming through my cranks. I thought it might be an alignment problem with my fancy derailleur, but nope, after routine chain maintenance it was like I was pedaling a cloud. A badass cloud. The sound of the tires actually rises and falls with my pedaling cadence. Zhoosh-zhoosh-zhoosh.
Along the Guadalupe River Trail there is a brief, very steep slope up from the river to the top of the embankment. The other day I stood up and mashed, increasing torque on the pedals by pulling upward on the handlebars. The front wheel was lifting off the ground as I pushed up the slope, and I leaned forward to put more of my weight over that wheel.
Like a real goddam cyclist. For the rest of that outing, my longest single ride ever, I was taking it easy to conserve energy, especially while fighting a fierce headwind for the first half, but for the few uphill bits I turned into a maniac.
How does my Fezzari compare to a Trek or Specialized with similar components? Honestly I have no idea. Fezzari is a smaller outfit out of Utah, and they make a big deal of their production techniques. The marketing copy sounds convincing, anyway, and there are some good reviews. And for a bike with the same components I'd be out at least another $2000 to go with the big name. Probably more. That's a lot of dollars. And the water I carry weighs more than the frame does.
Someday in the future I will haul my pedals down to visit my roadie friends in San Diego, and try not to destroy their gear as we ride about more slowly than they are accustomed to. Maybe then I can do a comparison. In the meantime, I can only gush about the game-changer I'm riding now.
The Fezzari folk are awfully friendly as well, although I think this road bike is new for them. In a couple of cases I feel a bit like a beta tester — a couple of conversations with their staff were a little confused, the assembly instructions didn't apply to this bike at some points, and the brace for the seat post needs a little design work. The front derailleur was not adjusted properly when it arrived, but they may have been rushing because I was pestering them with "is it ready yet?" messages every seven minutes and they just wanted to give an excitable old man his bike.
Would I recommend the Fezzari Empire to other cyclists? Oh, heck yeah. Am I the guy other cyclists should be taking advice from? Only if you love to ride.
_____
* As well as a fair number of miles on my old Giant.
** The term is not to disparage; I will be a member of this crowd soon enough.