Well, here I am, hanging in my new pad (map) while the TV guy is trying to make the satellite work. Satellite! Ooo! Now I can ignore even more channels. Tonight I will perform some sort of ritual to consecrate this soon-to-be-hallowed ground. There's only one beer left, though, and it's a long way to get more. Having the grocery store so far away is enough to drive a man to liquor.
I'm not sure the satellite guy really knows what he's doing. He's just fiddling with the buttons and the remote control, when the connector on the cable is broken. He's just spinning through the channels that get no signal. He's on 189 now. Every once in a while he finds a channel that works, though.
OK, he's gone now, but the non-satellite channels still work, and now I'm sitting in the comfy chair, sipping a frosty Budvar, watching professional hockey. Yep, that's right. Sparta's up 1-0 in the first period. It took me a while to figure out which team was which; there are so many corporate logos on the uniforms there's not much room for the team identity. It looks like a contest between Siemens Mobile VW Hi-Tec (all the players are named Ferrari) and TCHAS Buska Vjačka (all the players are names Dalkia). The refs are all named ARC impex, all are members of team Skoda, and they have Aquasoft written across their butts. The ice itself looks like it belongs in NASCAR.
But it's hockey. Right now they're skating 4 on 3. It's been a very physical game.
OK, now for the promised pics. The first one here I took a couple of nights ago, on the way home from a very smoky restaurant. We walked back over the Charles Bridge. Nice. No cars are allowed on the bridge, but it was still filled with people on a cold, cold night. This one looks a lot better big, so be sure to pop over to the gallery and check it out.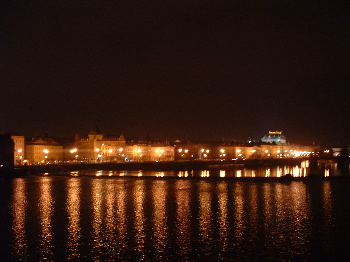 This is from about the same location, looking the other way out over the Vltava to the city on the far side.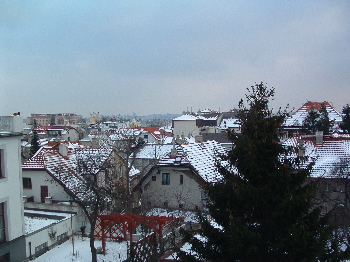 At last we reach the new pad. I took this from one of the windows in the bedroom. Unfortunately the window it pretty high up, so I can't gaze out into the city while I'm lying in bed. I pretty much have to tip-toe to see out.
As far as things around the house go, the appliances are definitely used, but the cabinets and countertop are new. The kitchen faucet is a trip. When you turn it on you can hear water running somewhere. A trickle starts, and eventually there is decent flow. That's when you turn it off. Water will continue to flow for quite a while as the water that had been filling the pipe drains out. Nutty. Shower works as advertised (note to self: towels).
I figured out how to have the temp go down at night to save on heating bills. This morning I am appreciating how long it takes for the temps to recover. (Note to self: house shoes). It's going to take extra tea (note to self: kettle) in the morning to get me going. I still plan to let it get pretty chilly in here at night (note to self: extra blankets), at least until guests arrive (note to self: extra extra blankets). The fridge (note to self: food) keeps the beer (note to self: more beer) cold but the freezer (note to self: cleaning supplies) is untested.
Since 05-05-05 is right around the corner, I've been assessing how many guests I can host at once. The answer: a lot, as long as they're short. So please, when you send me your reservations, tell me how tall you are. Remember: in this case, short is good!