This is the story of a new pair of bike shoes, but it starts with the old shoes.
A few years ago, I was killing time in a local, family-owned bike shop (as one does), and I found myself in the corner where the closeout items were piled. I had been thinking about upgrading from my toe clips to shoes that click into the pedals, and there was a pair of Shimano's at deep discount, in Euro size 42, which is as close to "my size" as you're going to find. So I bought them.
It was a while later when I actually bought the pedals to match. I had done absolutely no research on the types of pedals and the shoes that match them, and purely by chance I had bought shoes that work with the SPD pedal system. SPD was developed for mountain bikers, and had two key features: muck tolerance and a sole built up around the cleat on the shoe, which makes walking around easier.
You've probably heard the clack-clack of a bicyclist walking in their bike shoes. That clack-clack is not only uncomfortable for the walker, it also contributes significant wear to the cleats on the bottom of the shoes.
So it turns out that although designed for mountain bikers, the SPD system is also ideal for commuters, where there is often an amount of walking around to do once the destination is reached, but before a good shoe-change opportunity.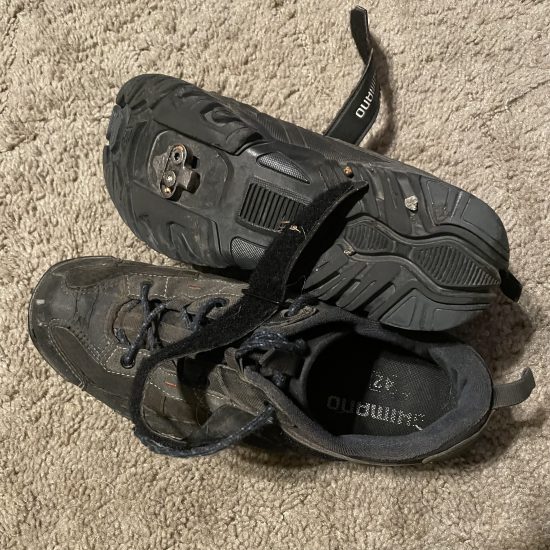 I have put thousands of miles on those shoes. (It's not as impressive as it sounds; unless you are impressed by consistency – which is actually pretty impressive.) By the looks of them, with new laces and eventually new straps, they have a few thousand more miles on them easy.
I have come to dislike those shoes. However, as has been said in many a break-up, it's not the shoes, it's my feet.
When I ride too many hours in a month, my right foot starts to hurt. When I ride too many hours in a day, my left foot becomes very unhappy. With my fancy bike, longer rides are becoming more common and Lefty has had a few things to say about that.
My feet are different sizes, you see, and while the longer one is very wide, the smaller one is ridiculously wide. I didn't take the above shoe picture with this in mind, but if you look at the left shoe above you can see that it is pushed out wider just past the strap. That's where the ball of my foot lands in that shoe, way up on the meager arch support. That also means that the pad of my foot is behind the pedal, and I'm actually pushing the pedal with my toes. It is my toes that get pissed off after 40 miles.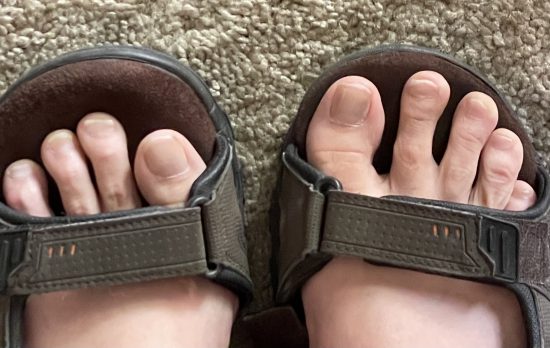 You know how after you break up you can look back and remember the good times and still be glad that you've broken up? Today the new shoes arrived. After less than 15 miles it's all over. The new shoes are sexy and comfy and made just for me. The next episode will be that story, but I wanted to create the setting first, and pay a little respect for a pair of shoes that have been with me through good times and bad.