According to the Velominati, the correct number of bicycles to own is n+1. However, I'm pretty content with two.
I bought the first bike in 2014. I went in to a Mom-and-Pop-and-Kids bike shop and told them I would be commuting on a bike but I didn't need anything fancy. They pointed me to the Escape 0 by Giant, which I think was discounted because it was being discontinued. It is a "hybrid" bike aimed at commuters – mountain bike drive train with lots of gears (important for skinny-leg people carrying lots of stuff), an upright posture good for traffic awareness, but narrower tires intended for road use.
I kind of fell for the upsell when I chose that bike, but I have no regrets. And I had a list of other stuff to load up on before I even left the store: cushier seat, floor pump, helmet of course, and on and on. I left a fair chunk of scratch at the bike store, and I've paid quite a bit more since, yet conservatively all of that has been paid and then some with gasoline not burned driving to and from work.
To say nothing of the other benefits. Health, happiness, and Yet Another Bike Episode here at MR&HBI.
Over time I've added a beefier rack, gone through a few different panniers (the bags that attach to the rack), put fenders on for rainy days (I kind of like the rain), various lights (including Revolights, which were a great idea but never found their market), and on and on. My mantra was, "the weight I take off the bike should come from my gut." I've put a lot of miles on that fine machine; many good hours being out in the world instead of boxed in metal and glass.
When I commuted by bike regularly, I started to recognize some of the others out there. A lot the other riders were decked out in tight-fitting bike gear, riding their fancy bikes. I would measure myself against those riders, pushing a little extra to maybe catch up with the Big Bald Guy at the next light. I could sometimes keep it close with one spandex-wearer, but if another came along, that was it. they would vanish over the horizon with a wink of light.
Most of that, of course, is because I'm a skinny-leg big-belly graybeard, but it turns out the hardware matters as well. Enter the Fezzari.
When the pandemic came down, I had not been riding regularly. Early on I took the disruption of my life as an opportunity to rebuild some good life habits, and the bike was at the center of that. Things were going great, until a mechanical issue during a major supply-chain disruption left me with no bike for a while. Late one night, I thought, "What if I buy another bike?" The only bikes available were the really high-end ones, but if I was gong to justify another purchase, it had to fill a different role than my commuter bike anyway.
You know how that turned out. And now here we are.
Wednesday I rode the Giant to work, lugging along a change of clothes, a laptop, shoes, about five pounds of food, and other odds and ends. Even if I could fit all that in a backpack (doubtful), then my back would be a swamp by the time I got to work. No problem on the Giant. It is a stable ride, comfortable, with an upright posture and wide handlebars for easy control. Thirty different gear ratios to choose from and that good ol' cushy seat means that while I'm riding I'm just traveling, getting where I'm going with a minimum of fuss. It's not a bike commute, it's simply a commute.
It's the bike I ride to the store (usually the bike store).
When I got on the Fezzari I discovered a new sort of bicycling. The bike is small, and twitchy, and fast. I'm still learning to ride it, still getting used to the more aggressive seating posture (I'm very happy I asked them to set it up with a "relaxed" posture, adding a bit of height on the handlebars so I'm less hunched over.) My hands tend to go numb on long rides; I'm still searching for the right posture and grip to deal with that extra weight on my arms.
But there are times, many times, when all that is forgotten and I'm cranking along to the sound of my tires whooshing over the pavement and it's sublime. I love that bike.
I think, in fact, I love it more because I still put in the miles on the Giant. I am constantly reminded just what makes the fancy road bike special. Without that contrast would I start to take my new bike for granted? (Actually, probably not, but it's still a good reminder.) And what about my faithful pack mule? I love it more, too, for having ridden the Fezzari; I appreciate the comfort and the capacity and the simpleness of riding it. It's the perfect tool for the job.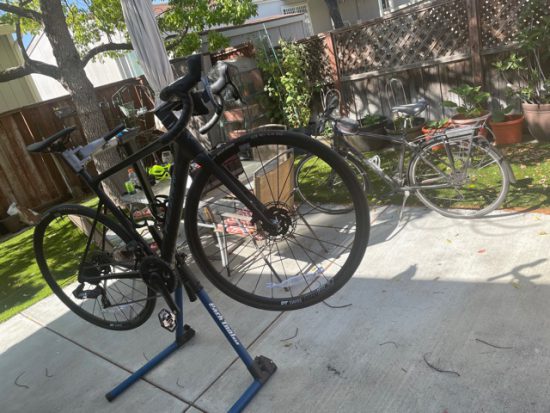 Special bonus: twice the time tinkering in the shade of the tree in our backyard.