At work, I have a fancy chair, adjustable forty-seven different ways, and after a week of increasing back pain a trained professional was dispatched to get things just right for me. (The back pain was more about keyboard height than it was about the chair, but still…)
It's a mighty comfy chair.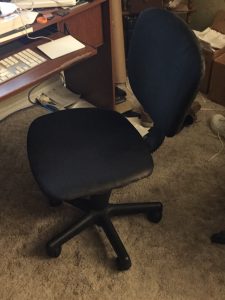 At home, I have a little piece of crap chair that apparently came from Big Lots and cost $16. It has no arms, the back rest is fixed and there's no padding to speak of. Yet, I can sit in that chair indefinitely. I have fallen asleep in the spartan little-more-than-a-bench-with-wheels many times, whether watching bittersweet Japanese cartoons deep into the night or playing some stupid computer game.
For you, perhaps for everyone else on the planet Earth, this chair might be torture. But for me, it just fits. Also, when sharing a small office, a chair that doesn't take up a lot of space is beneficial.
That chair and I have been friends for many years now. It's the place I sit when it hurts to sit anywhere else. Only now, it's breaking. The center post has pushed down through the ring that attaches it to the wheels, so that it sits up on the post instead of resting on the wheels. Today I tried, with steadily increasing force, to reverse the slippage. No success, but a wheel flew off in the process, even though that leg was not involved in my percussive maintenance. Like I said, increasing force.
Even if I force the stem back, the connection relies on friction, and once things start moving, that's the end of the story. New slippage is pretty much guaranteed in the near future. And as you can see in the picture, the fabric won't be holding on much longer, either. Pretty soon I'll be getting a new chair. Big Lots apparently doesn't carry this chair anymore; my new chair is likely to be fancier, but will it be better? Unlikely. And there's no way to know in the store; it won't be until my next research project based on Revolutionary Girl Utena that I discover whether the new chair is friend or foe.
So let's raise a toast to all the simple things in life that just work, beyond all reasonable expectation. Not the fancy, glitzy things, but the spartan chairs that fit right and the stapler that never gives up and the bargain-store shoes you wear until they completely fall apart. Those things go beyond value, to become part of you.