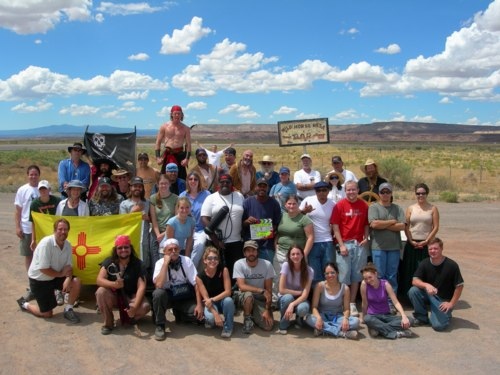 I will not list them all here – my apologies to those not mentioned. Not being listed here is in no way in indication that someone was unimportant. This blog is all about me, and the people here are the ones who had the largest effect on me. Note that, except where I am given permission to use a person's real name, I am using pseudonyms. People are listed in the order I think of them.
fuego
My brother, co-writer of Pirates, and director. If you've been paying attention, you know all about him. Before writing Pirates, I never knew collaboration could be so fun.
Rudolph
I also refer to him as Rudy fairly often. Although he had experience on a few films he had never been a producer before. Soon after we were notified of our winning the Fellini award, fuego and I began to get emails from Rudy. He had gone through the script and was already putting together the team to make the movie work. He notified us of potential problem areas and what he was doing about them. "I like this guy!" I wrote to fuego. I still do. He worked hard, long hours, juggled dozens of priorities, and when the tide changed he went with the flow, bending without breaking. He embodies one of the key lessons of this whole adventure: You don't get what you want if you don't ask. From the Crusader to the Director of Photography to the helicopter, Rudy got what he wanted.
Bonnie
She can build furniture and charm a car dealer out of a couple of SUV's. I've already written about her, so I won't go into detail here. I do wonder, though, if she's read that other bit. Kinda makes me nervous.
Seldom Seen Smith
As the name implies, Seldom is most notable for his absence. Every crew was assigned a mentor, an industry veteran to guide them through the moviemaking process. Seldom has directed a couple of major motion pictures, and although we felt we had things under control it would have been nice to at least hear from him. Finally I heard through the grapevine that he was working on a different project and the schedule had been stretched. You can't blame a guy for that, but it would have been nice to get at least an email from the guy explaining the situation. In the end, he was a bad example of how the business works.
Moab
The actor who eventually came to play Moab was critical for the casting of not just pirates, but for all the movies. It was he that guided (or misguided in a couple of cases) the actors during auditions. I was the only writer to participate directly in casting, so Moab was left to interpret the other scripts on his own. Moab is Pirate through and through. During casting he said he was not available on the first days of shooting because he had a big pirate ho-down to attend. He is a member of The Society for Creative Anachronism, in a section specializing in pre-flintlock pirates. He had all the gear, and even before we cast him had loaned us a bunch of swords and other props. Aye, maties, Moab be a pirate, and his leadership skills showed as the pirates came together as a unit.
Louie
Louie is a big guy, friendly and enthusiastic, and had been taking courses in film production. He had some camera experience, but on our film was assigned to the sound crew, where he had no experience at all. He was there to help, no doubt about it, and didn't want to miss any part of the production. I was a little worried during casting, when he would make noise while people were reading for parts in other movies. It wasn't that he was impolite, far from it. He was one of the nicest guys around. He just wasn't quite aware of all the things expected of him. He would require careful guidance on set, with lots of feedback, in order to perform well during production. He didn't get it.
Smithers
Smithers was not directly part of our crew. He had the unenviable job of getting seven movie productions going simultaneously. He is an intense, just-so hardass who will repeat himself many many times after the matter has been decided. He can be frustrating to work with, and made it difficult to get the resources we needed. A festival like Duke City Shootout would not work without someone like him.
Seldom Seen Smith Jr.
Perhaps an unfair monniker. SSS Jr. was assigned to us as Assistant Director after our first one had to quit before we even got started. Seldom Jr. was working on Wildfire, some sort of TV series filmed in New Mexico, but he had never been an AD before. He arranged to take the days we would be shooting off of work so he could help us. The thing is, much of the AD's work comes before the shooting starts. AD is a vital planning and communications role. No one had explained the role of an AD to him, and the people who assigned him that role this time made no effort to fill him in, or even to see if he was available to do it. fuego ended up doing much of the AD work himself, with some support from Rudolph.
Giovanni
Our Director of Photography was one of the most respected camera guys in the state, the guy who taught many of the other camera people participating in the festival. He came with a whole truckload of equipment as a bonus. An easygoing, funny guy, he had the knowhow to get things done, and had plenty of good suggestions for improving shots. He brought along with him several other key people.
Pablo
We were burning through mentors faster than Joan Collins through husbands. When would it end? Would we have a mentor when the shooting started? Other teams had established actors (Adrian from Rocky, for instance) or Hollywood producers. We were doing all right on our own, but feeling kind of left out. One night, with shooting immanent, we get word that our latest mentor had flaked, but the home office had lined up another. Enter Pablo. He's not some hollywood big shot, but he is a grizzled veteran of Shootouts past, and he knows what it takes to get things done. He strength is editing, which fit beautifully with our needs. He and Charles the First had worked together before, and knew how to move as a team.
Charles the First
Our lead editor lost his day job just in time to give us his all. Chuck 1 is skilled, abrasive and outspoken. "I know Chuck is not for everyone," he told me one night. After one meeting where he told Smithers he thought a particular policy was stupid, we forbade Charles I from speaking to Smithers ever again. Alas, this policy was impractical and he went on to piss off Smithers on more than one occasion. In the editing bay he was often the first one to find a problem with the equipment, and he had no problem being the squeaky wheel. C-One gets it done, and he's not afraid to tell you that. He is also a master of barbecue ribs.
Charles the Second
C-2 is another old friend of fuego's, and a long-time veteran of the film biz. When he learned of our impending production, he managed to hollow out a tiny space in his schedule, rented a car, and drove out from Los Angeles to operate our second camera. Smithers really didn't want us to have a second camera. I never heard the end of it. Giovanni was OK with it, so long as it was clear the he was the Director of Photography. So we had a second camera. It was a tough job; one day he was forced to drive around the southern half of the state in a car with two of our prettiest crew members. He had to leave as soon as shooting was done, much to the disappointment of Cynthia.
Corky
Corky, our innovative makeup guy, was also responsible for making the alien fetus in a jar. Not only was he makeup, he was our set Emergency Medical Technician, and overall mother hen. No one was going to get sunburn when he was around, by damn! He made our pirates into ugly SOB's, concentrating most of his uglification on Kentucky Jack, giving him as misshapen nose and covering him with scars. One of his best moves was to bring Cynthia on as his assistant.
Cynthia
Well, what's to say? Nothing, if you're Cynthia. No worries about her making noise on the set. By the end of the week we heard complete sentences from her, and I even had a conversation or two. She was part of the makeup team. It's easy to overlook the contribution of people like her on set – when you don't have to delay shots because the actor has gotten too shiny, all you know is that things are going well. She's probably going to be pissed that I spilled the beans about Charles the Second, although Corky spilled them to me.
Archie
I started breathing easier when Archie volunteered and was assigned to our team. Need a boat wheel that fits on the steering wheel of a car? "When can I see the car?" On and on like that. Archie knows tools, and knows how to weld up an anchor out of spare staircase parts. Archie knows tools, and he has tools, but he can't use them at home; he lives in a teepee and has no electricity.
Morgan
Giovanni has taken this young lady under his wing, convinced she has talent as a camera operator. I'm not one to judge that stuff, but she is a vivacious, outgoing, and totally hot film student. She was dreafted onto the set by Giovanni and did a good job making herself useful. Hot she may be, but she's also nice to have around.
Dog Bone
Biker, actor, and general hell-raiser. The organizers knew him, and asked us to make him a pirate. At the same time, they were asking him if he wanted to be a pirate. We each thought we were doing a favor for the other. It was cool, though. He was a great pirate, but the stories he had to tell were even better. How many Asian prostitutes was that again, Bone?
Kentucky Jack
A lawyer in a former life, the actor who played Kentucky Jack was actually part of the legal battles surrounding the treasure story we based Pirates on. Our X on the treasure map in the credits is reasonably accurate, thanks to him. We have footage of him becoming Kentucky Jack: First one of his eyes pops open, then the other, this his mouth one bit at a time, until he is transformed into the craziest of the pirate crew. It's awesome. Kentucky Jack was also the source of some excellent ideas which found their way into the production. On the last day he came up to me and said, "I know what we need! A midget!"
Ruthie
Compared to the rowdy boisterousness of the pirate, our Ruthie was a down-to-earth actress. Her performances were not always consistent, but she steadily improved during the shoot. Chemistry between Ruthie and Moab was, well, not smooth, but they put that aside when the camera was rolling.
Izzy
We almost lost Izzy to another film in the Shootout, but luckily for us he decided to go with this role, despite having almost no lines. He is a terrific physical actor, and the chemistry between him and Moab was tremendous. His quirky, odd character was a show-stealer.