I'm traveling to beautiful scenic Lawrence, Kansas this summer, and I thought I'd see if taking the train was an option. On the plus side, the Southwest Limited passes right through town; if I flew I'd have to arrange transport from Kansas City. On the minus side, traveling by rail in this country is pricey. Back on the plus side, a stop in Santa Fe for a few days is trivial – the train goes through Lamy.
As I perused my options I came upon this table: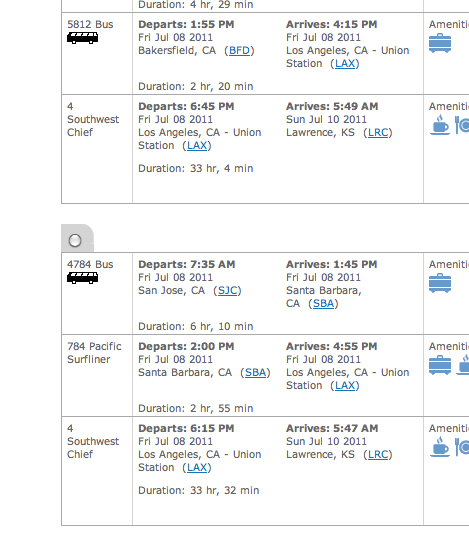 Note that, depending on how I reach Los Angeles, the Southwest Chief departs at different times. The back end of the train catches up with the front end over the course of the journey; the arrival time is almost the same.
Sometimes a movie maker will see a shot in a film and have to ask, "how did they do that?" Most of the time, a question like that is a compliment. But here I am, a Web/database guy, asking, "how did they do that?" and it's with a disbelieving shake of the head. Who on this planet would design a system that allowed such inconsistency? Trust me, it takes extra work to get system behavior like that.
Don't tell the people signing my time sheets every week, but this stuff is not that hard.