zlato proved useful once more, sending me the info about and American guitarist and singer who works regular gigs here and there around town. It turns out I'd heard Brad Huff play once before on a night spent hanging with zlato, but I had forgotten the guy's name, along with everything else about him. Last night he had a gig at an American-owned bagel place. "Looks like we're having bagels for dinner tonight!" fuego replied when I sent him the info.
As the day wore on, I was overcome by deep and profound sleepies. Brad plays often enough, we could miss one night and the world would not come to an end. Through the innefficiency of text messaging fuego and I were not quite on the same page; I was getting writing done and was not inclined to go out, but by the time I stated that explicitly fuego was already on his way.
As well he should have been. Really it should have been me dragging him. This is my sandbox, my budget, and if I don't drag this bastard project forward through sheer force of will, then who is going to? I resolved to rally. While I was getting my act together I got another message from fuego. He was quite a bit early for the concert, so he'd gone to another place nearby, a potential location for the film. He told me how to find the place and I started on my way.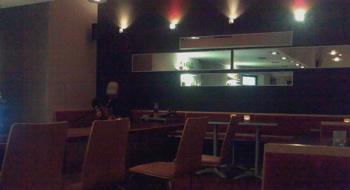 A lonely bluesman at Bohemia Bagel
It took a while to get there by tram. fuego's directions were excellent, and the place was easy to spot. I got inside and realized that finding the place and finding someone inside that place are entirely separate challenges. It is a crazy labyrinth of stone and metal, filled with mood lighting and kinetic sculptures made from old engines. It's contrived, but damn if they didn't get it right. The levels have levels, there are nooks and crannies everywhere. They had Sailor Jerry Rum, which I did not try. I didn't take any pictures. We had a coupld of beers, discussed it in the context of "Moonlight." It's much busier and more modern than I imagined the location in the story, but it's also way cool, which counts for a lot. It's a place that is without a doubt Prague.
After a while we headed the few blocks to Bohemia Bagel for the show. We had no idea how crowded things would be, so showing up a bit early seemed like a good idea. In this case, there was no need to worry. Bohemia Bagel is simply not a place people think of when they're going out for an evening. I assume booking a blues player once a week is part of a campaign to change that. We arrived, sat, ordered munchies and beer, and waited. Before long Brad sat down in the corner and started to play. He was good, and when we talked to him on his break he turned out to be a personable guy who understood what we were up to and was interested in working with us. Not only that, but his wife is a pianist and has worked as a hand double as well.
We talked about all sorts of things; the story he told about being abandoned in Tuba City, NM was especially good. No two ways about it, that man has some tales to tell.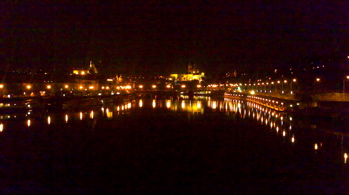 The Vltava, looking toward the castle and old church
After the show he joined us again for a while and we had a round of Becherovka for good will. Then we went our separate ways. In what has become a pattern fuego decided to do a bit more "location scouting" while we were out. We walked across the river down into the center of town, where the basements are the coolest, and trod the cobblestones looking for likely venues. Nothing presented itself right away, but we stopped off as a place called (something like) Fat Boy Bar, a place neither fuego nor I had even been before. It was fairly quiet in there by then. We got beers and made ourselves comfortable.
A while later I looked up and there was Brad, still dragging his little wheel bag with his amplifier, his guitar slung over his back. I waved, he laughed, and came over to join us. "I got on the wrong tram," he said. "I used to come in here all the time, but I haven't been in ages." Yet there we were, as if guided by some divine practical joker, and more stories ensued. And more beer. Maybe some more Becherovka. Maybe not.
Time continued to stumble ahead toward dawn, clumsily but inexorably, dragging us with it. Eventually it was time to go home. We walked out into the quiet Prague streets. I really like the city at that time of night; one of my favorite Prague moments was a similar walk through fresh snow. We bid Brad goodnight at his (correct) tram stop and fuego and I started tromping homewards. We made it as far as El Paso.
I wonder if he can play the blues…
El Paso is a bar I pass often but rarely go into. One of those visits was on a very similar walk home with fuego, late at night when we both know better but are willing to forget for a while that we do. El Paso is open almost all night, just closing long enouogh to clear out the drunks before they start a new day. We sat, chatted a little more, mostly about the project, and eventually there was just no denying that it was time to go home. I walked part of the way but I was passing the tram stop just as the night tram pulled up (still night trams — at least it wasn't as late as last time) and I hopped on for the last half-mile or less. The tram itself was a fairly modern number, but all night trams come equipped with a sleeping drunk guy. This guy is living in luxury; he's not forced into the standard slumped-forward posture you see on the older trams. I'll tell you a story about that sometime.
Finally, home, happy to be there, I spent a little while chatting with That Girl. She called me a dork. (She loves dorks, luckily.) I didn't last long, and then I flopped down on the Curiously Uncomfortable Couch and was asleep almost before I was horizontal. Quite a productive day, overall…