Location: Buggy's (map )
Miles: 1464.0
I have noticed that, between all the stuff I'm lugging around and all the space I need to set up shop, I am not the typical houseguest. On the good side, my hosts don't have to worry about entertaining me, since I can always work or write. On the other hand, it kind of sucks when there is always someone working or writing in your living room. You feel the need to tiptoe around. (This is, in fact, completely unnecessary – I write in bars for crying out heaven's sake.)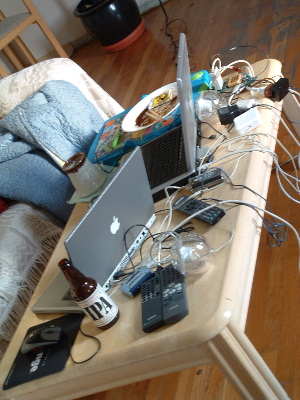 Then there is all the hardware I set up for my command center. Buggy now has wires all over his living room floor – power cables going one way, network the other, and a pile of hardware in the middle.
As a special bonus for Buggy, who has his own Web hosting business, his name server crashed for the first time in years soon after he set me up, and yesterday I broke the handle off his microwave. He took it very well.
Then, of course, there's the Bad Influence Factor (BIF). having someone in your house who is more or less unemployed and on many days really doesn't have to be all that responsible tends to make my hosts think of all sorts of reasons why they, too, shouldn't have to work either. So instead we hang out, maybe have a beer or two, go do something fun, and generally enjoy the day at the expense of any pretense at productivity.
Take yesterday, for instance. Buggy shined work and we hopped in the 'ol convertible for some sunny-day mountain-spring-drriving fun (SDMSDF). We hooked back up with John and enjoyed a Local Microbrew (LMB) (photo) and finished the day tired and happy.
When I put it that way, I'm not so sure my influence is so bad after all. Perhaps it should be named the WORIF (Work is Over-Rated Influence Factor). I know there's a better name, but my attention span has not