This just in from the parental news service:
Some of you are probably already aware of my penchant for
stacking rocks upon each other
when the opportunity presents itself. In Prague, although the streets and sidewalks are often made of stones, pulling them up and stacking them is discouraged. But this! This is an outrage! I think the photo was taken in Hawaii somewhere.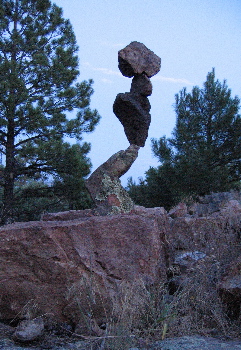 Apparently in Hawaii they don't appreciate
art
. Sure, sure, they use rock piles to mark the trails and people would wander off, get lost, and fall into a volcano, but that's a small price to pay, don't you think?
You see where this is heading, don't you? First it's public safety, just an isolated case, nothing to worry about. But then, once the anti-stackists have a foothold, they will work away, slowly eroding our God-given right to balance stones up one another, gradually stigmatizing the practice until rock-stacking will only be done in remote areas and well-protected compounds in the desert.
I am outraged!