As many of you no doubt know, I have taken many the picture of Harlean Carpenter (who is a fiction). You can see a bunch of them over at Poetic Pinup, but there are some shots that will never show up there. Four whole shoots worth, in fact.
You see, a while back someone suggested that it would be fun to make a deck of playing cards with pictures of Harlean on them. We thought that was a capital idea and got right on it (roughly three years later).
Here's a look at promo photos taken during the three shoots we have in the bag so far: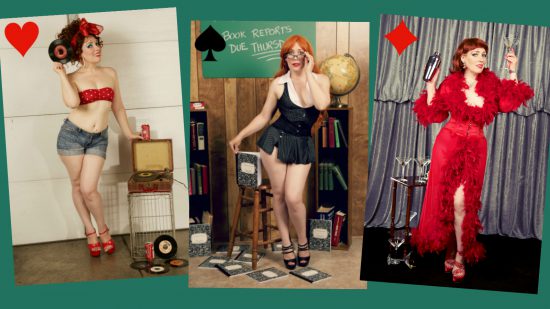 Those shots won't be in the actual deck, but they do give an idea what the cards will be like. You will note that each photo includes a number of small objects, from one to thirteen. Because fictitious or not, Harlean takes her themes seriously. I'm really looking forward to the clubs set this weekend – Paleolithic, baby!
The page over a Kickstarter explains it all better than I can, but I'll give you a brief rundown – 52 fun pinup photos + jokers, high quality printing, plastic case. You can get extra-special cool stuff if you pony up a bit extra.
Some of the proceeds go to Toys for Tots, so this is also a chance for you to shine a droplet of sunshine into a kid's life.
You would make me all sorts of happy if you (yes, YOU), were to pop on over and buy a pack. And whether or not you decide this awesome pack of cards is for you, please, PLEASE spread the news.
Thanks for your support! You all are awesome.