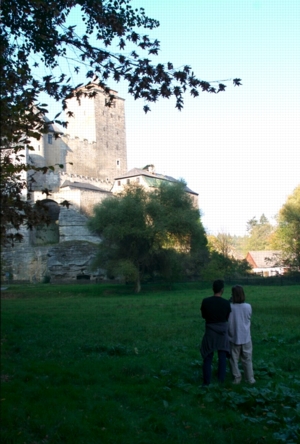 The other day fuego was poking around online when he discovered a video contest. The contest is sponsored by the company that makes some sort of shower gel, so the videos are to show people who are dirty getting clean again. This particular shower gel advertises heavily in magazines like Maxim, which is essentially Playboy for illiterate wimps. Right away, then, it is safe to assume that the winning videos will have sexy women in them.
fuego and Soup Boy put their heads together and came up with a storyboard. In the story… zombies! I don't think they even knew it was Zombie Month. Soup Boy scored a fairly high-end camera and rounded up the cast while fuego recruited an accomplished makeup special effects artist and got a production assistant in the bargain. I set to work trying to get permission to use interesting zombie-worthy music.
The first bit of shooting was at a castle an hour's drive outside of Prague, and it was just the three of us. This weekend it was time to get the shots with the zombie babes. I held the ideal table at the Little Café Near Home while the makeup guy went to work on the actresses. It created quite a stir when the first two arrived at the vanguard of the film crew, staggering in with a shuffling zombie gait. They looked… dead. (A little too dead, I thought. This shot is supposed to be after the miraculous transformation wrought by the shower goo, leaving the girls looking only slightly dead.) The girls came over and greeted me by name, which surprised the other customers, who are used to me just sitting in my corner and working.
The crew invaded and began to set up. fuego echoed my concern about the makeup, but when you get a major guy in the biz working for you voluntarily, you don't complain too much. I tried to be helpful, which for the most part meant staying out of the way. fuego enjoyed calling out (in Czech), "OK, look dead, people!" After a few takes it was over, and the crew packed and left, off to shoot the dirtier (and more risqué) "before" scenes. Alas, some of the zombie babes were shy, so as a nonessential male I was not invited on set for the lingerie portions of the shoot. Oh, well.
Yesterday I got a message from fuego. Sure enough, the zombie babes need to be cleaner for the "after" shot. Tonight, the Zombie Babes will strike again! Watch out!